June 24, 2021
Creativity is a sought-after attribute. An IBM survey of 1,500 CEOs from 60 countries were asked which leadership quality they would need most over the next 5 years. The top answer? Creativity.
The claim that "everyone can be creative" is complicated. Everyone has the ability to innovate, design something, or develop a creative idea, but creativity is a skill much the same as being good at maths or science. Some people are naturally more creative than others. The real question, is how can we try to stimulate creativity and innovation in a room full of people with a variety of creative skillsets?
The answer lies in variety.
Each individual brain responds to different stimuli. A creative office environment that encourages employees to research, analyse, build, collaborate, isolate and daydream are providing workers with the facilities and tools to nurture their seeds of an idea. Here are a variety of ways to stimulate creativity and innovation in the workplace.
Colour
Creativity encourages creativity. A mixture of colours, shapes, textures, patterns, and perspectives within a room can encourage creative thinking. We know that colour affects productivity and mood in the workplace, with green and blue being the most popular colours for producing new ideas.
This links to biophilic design, which is our innate connection to nature, supported by Leesman's research that shows over 50% of employees view plants and greenery as important features in creating an effective workplace.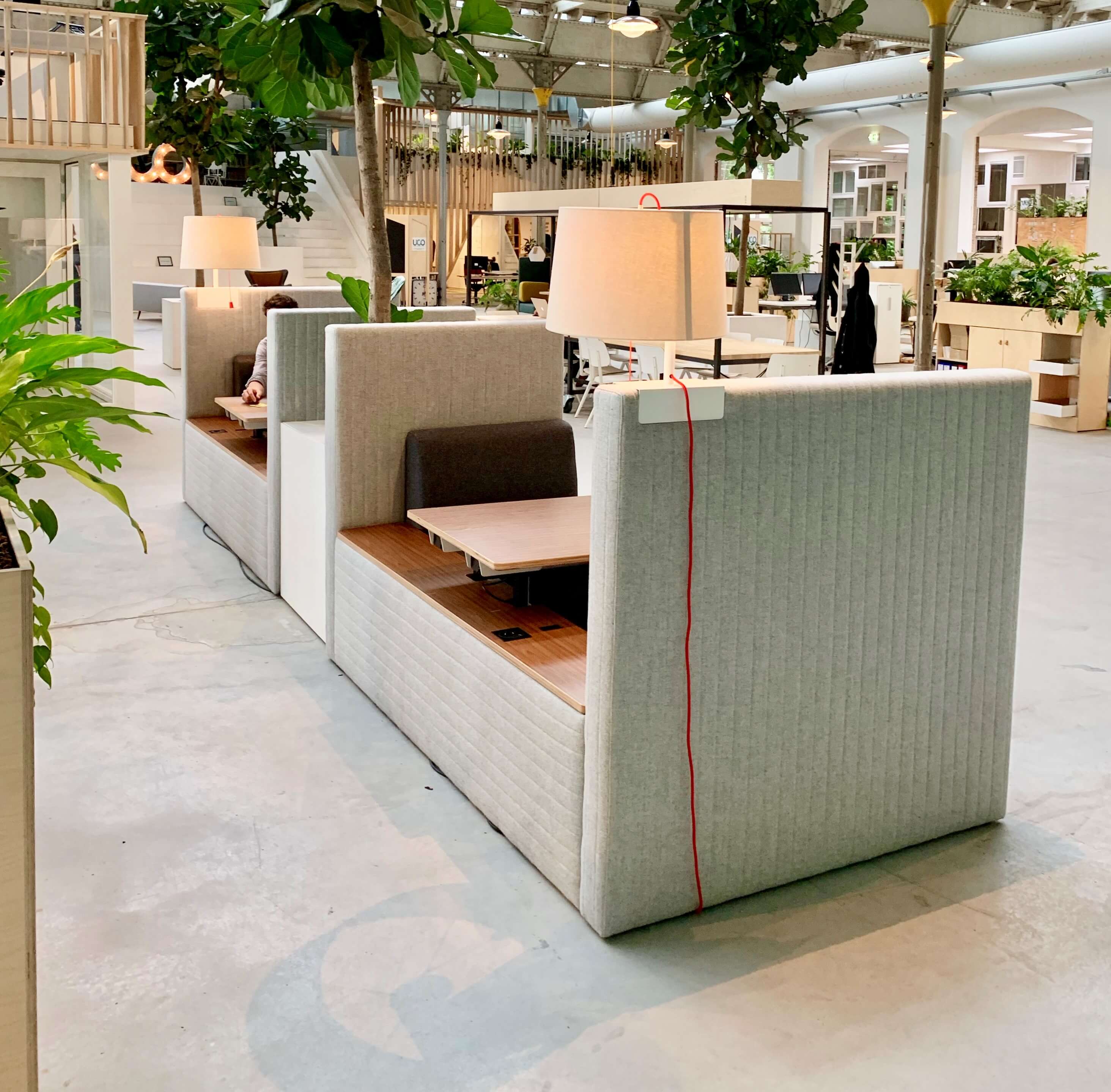 (Face to Face modular meeting pod with adjustable table)
Accessories
If you're trying to stimulate creativity and innovation, then the last thing you want to do is accidentally stifle it by not having essential accessories around. A smart whiteboard on wheels placed in every room is a great way to record creative thinking.
We love Ostrich from Studio Vix due to its aesthetically pleasing minimalism and its circular design principles.  Similarly if you place a paper roller such as Birdhouse on a table or against a wall, then it can be stretched to varying lengths, allowing several people to jot notes down at the same time.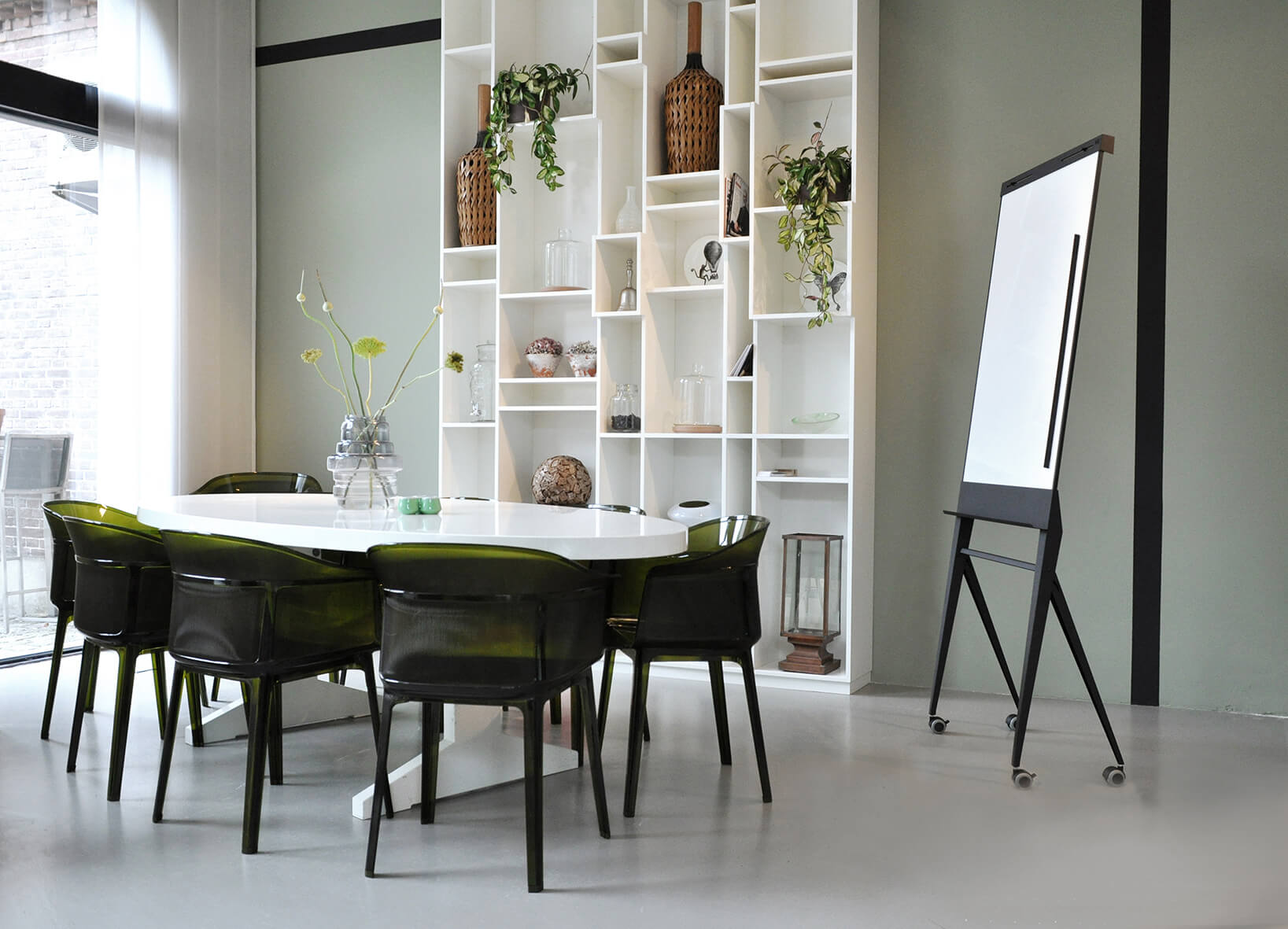 (Ostrich, a freestanding whiteboard and flipchart)
Unity
Some people work best taking inspiration from those around them. Working collaboratively in a group can enable people to ask questions, express opinions, learn new information, expand their knowledge, and most importantly be curious about evolving ideas.
In order to create a unified space where everyone's suggestions can be listened to, make sure that employees are sat in a circle. For example, if you've ever eaten dinner with friends at a rectangular table, you'll know you're limited to interacting with 3 or 4 people closest to you, whereas a circular table provides a clear visual eyeline with every person there. Positioning everyone equally is an important part of sharing ideas, and so simple to do: all you need is to place some comfortable stools in a spacious circle.
Solitude
Inspiration can occur anytime, anywhere. According to Forbes, about 15% of us are very strong larks, about 20% of us are very strong owls, and about two-thirds of us are somewhere in the middle.
When exploring how to stimulate creativity and innovation in the workplace, you need to offer space for people to retreat to throughout the day – especially if they're looking for some time alone. Persy One is a great solution for this, giving employees a soundproof pod that lets them hear their thoughts without isolating them from the rest of the team.
(Persy One is an ideal individual focus space)
Relaxation
In an article by Inc., we learned that "The latest neuroscience confirms overwork makes your brain 'dull' in the sense of being opposite to 'sharp'. Overwork, in other words, kills your creativity". Unfortunately, you can't stimulate creativity and innovation at the switch of a button; we have to allow our brains to not think about work to often find the answer to a work question.
When employees know there's a safe, quiet, relaxing space to go to, this can often unlock any creative blocks because they're no longer "working". The Inc. article continued by saying that "The research is now saying that there is no trade-off. Long work hours don't make you more successful Instead, they make you sick, and worse, they make you dull – in other words, mediocre and uncreative". It seems that real innovation occurs when you switch off, so offering a place to recharge, such as Relax, is actually conducive to stimulating creativity and innovation in the workplace.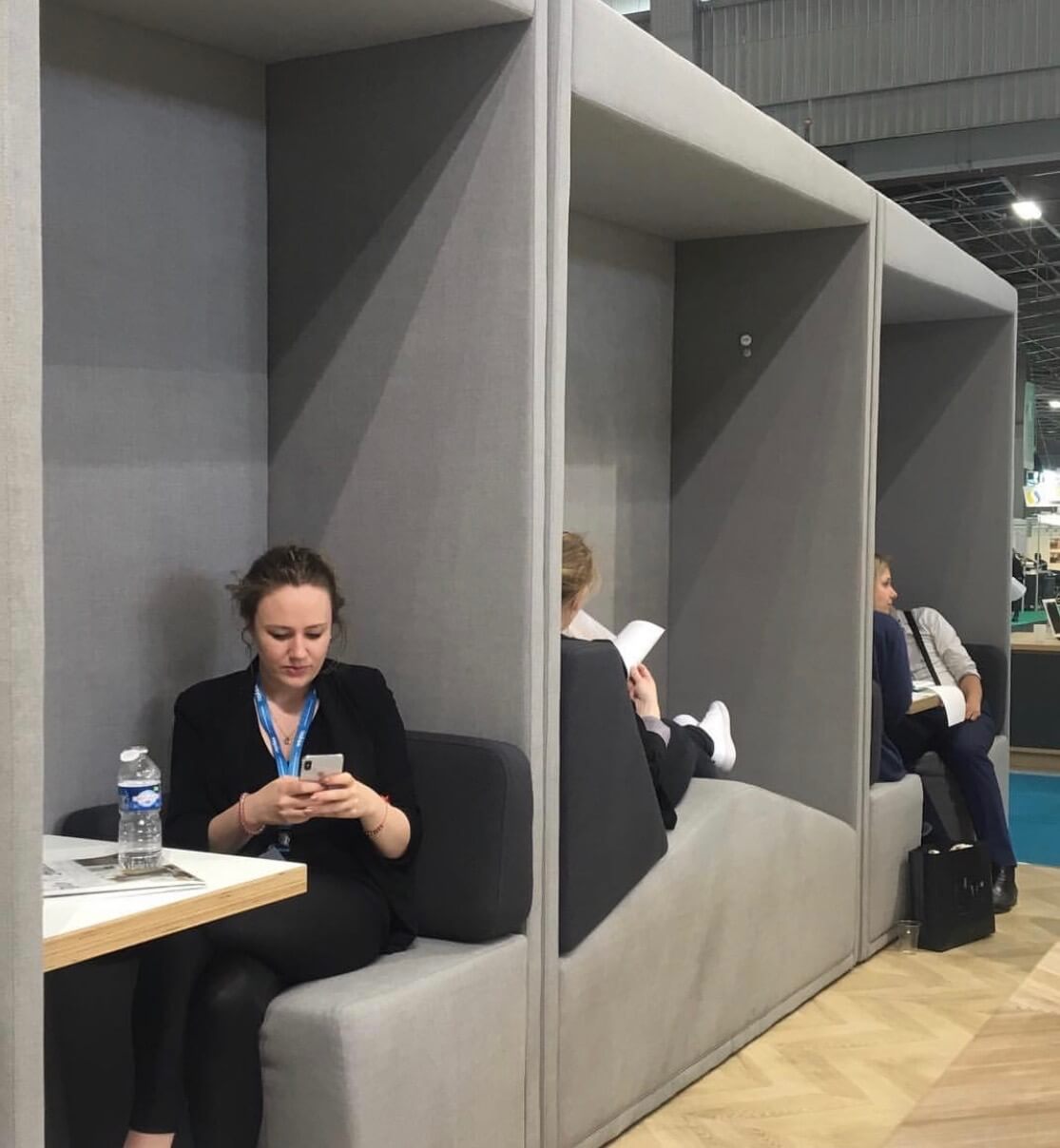 (Relax helps employees unleash their creativity)
At first glance, certain workplace accessories may not seem like energising resources, but a strategically placed whiteboard, paper roller, circular seating area, soundproof booth and relaxing pod can considerably improve the chances of stimulating creativity and innovation in the workplace.
For further information about any of the products listed above, please email us at design@agilita.co.uk. Alternatively, for further workplace insights check out our research into "What is sustainable furniture?" or "Why mental health in the workplace is important".