October 28, 2021
Will we go back to the office? Can I work from home permanently? What does a modern workplace look like? These questions have been asked almost daily over the past year, with everyone looking around to see what the next workplace trends will look like.  
In 2020, Twitter's CEO Jack Dorsey announced employees can work from home indefinitely whereas TikTok has agreed to a 10-15 year deal for an 88,500 sq ft building to become a central workspace for employees. With such polar opposites, we decided to round up the data to provide insight on what to expect from a modern workplace in 2021.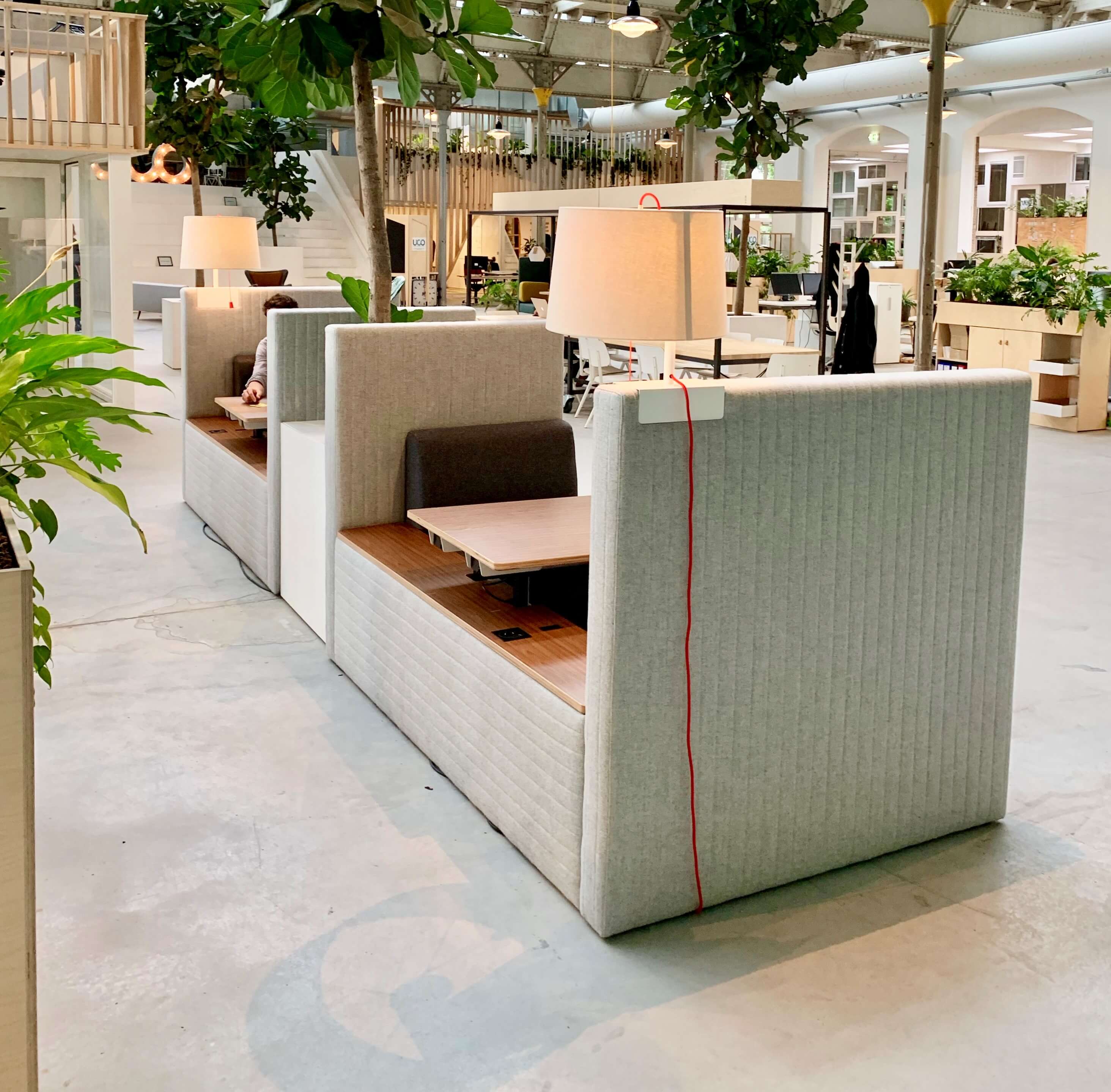 1. What's the office for? Collaboration.
With murmurings of 'the office is dead', the majority of people will use a modern workplace as a way of connecting, collaborating and socialising with their colleagues. Research found that 46% of UK workers experienced loneliness during lockdown, with young workers aged 18-24 suffering the most; 74% said they'd felt lonely during the lockdown.
It's great to see that in a UK business survey, 53% of companies want their offices to have a greater amount of collaboration space. Going forwards, the modern workplace needs to specifically provide collaboration spaces; flexible areas that can cater for 5 or 25 people, with comfortable furniture, equipment like whiteboards or extendable tables for scribbling ideas down, but above all a collaboration space that encourages communication.
2. Technology continues to play a pivotal role.
In a digital world, all we really need is WIFI. Whether you're working from home, in a local café, a coworking space or back in the office, the universal link is technology. Whilst we may be suffering from Zoom fatigue now – with nearly one-third of us spending our day on camera - virtual meetings have enabled us to keep in touch with our colleagues, all from the comfort of our home and slippers. When we have the option of seeing people face to face and can head into the office whenever we want, then virtual meetings will become more favourable again.
A truly modern workplace will have tech at its heart. It's predicted that technology will affect how we interact with the buildings, for example employees may be scanned for elevated temperatures; thermal cameras can alert if high-traffic areas have become too densely populated; and real-time AI software will alert Facilities Managers when desks needs to be cleaned.
3. We need to look after our mental health.
Our mental health and wellbeing has taken its toll. Mental health problems have worsened across all age-groups in the past year and more than 42% of people reported symptoms of anxiety or depression last winter, which means that there's an emphasis on supporting one another to improve our overall happiness. When it comes to a modern workplace, offices are considering a wellness area; a space purposefully away from desks or line of sight which allows workers to have a safe space to self-regulate, text friends or family, or catch up with their manager.
Equally a modern workplace can benefit from multi-purpose spaces that introduce physical activities during the day. A pre-work fitness session or lunch yoga class are both great ways to positively influence your physical and mental health.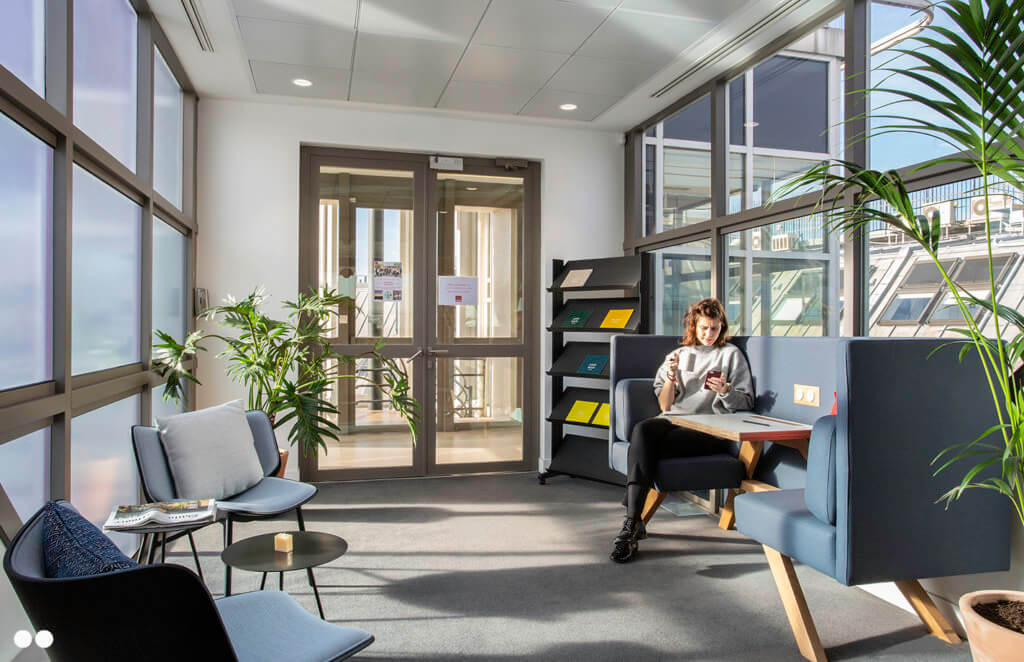 4. The modern workplace has an emphasis on hygiene and safety.
Everyone has become sensitive to their surroundings. A year spent being told to avoid people, it will take some time for workers to feel comfortable in new spaces. Facilities Managers are on high alert for better air circulation within buildings whilst it's up to team managers to ensure that not everyone is in the office at the same time.
Furniture manufacturers have paid close attention to ensuring their materials help reduce the spread of contamination in today's modern workplace. Still combining modern designs, we've seen an increase in antimicrobial materials covering seats and sofas, plastic partitions separating hot-desking areas, and suggestions for copper-plated doorknobs to prevent the spread of coronavirus. Whilst these measures may not be immediately apparent when workers return, this extra level of hygiene will reassure those returning to the office.
5. Sustainability is everyone's responsibility.
Whilst sustainability has been a workplace trend for a while, no modern workplace should be without eco-friendly products or materials. The built environment contributes an estimated 40% of global carbon emissions, so architects and designers have a responsibility to invest in circular economy initiatives, reduce waste, and encourage product innovation such as furniture from recycled wood or ocean plastic.
What's more, sustainability is good for attracting top talent. 65% of people are more likely to work for a company with a strong environmental policy and according to one study 40% of millennials would take a pay cut to work at an environmentally responsible company. Sustainable living is evidently better for business as well as the planet.
6. Hybrid working and flexibility.
The working from home revolution, for the most part, turned out to be successful. It wasn't under ideal circumstances, but many workers found that they can be productive, work flexibly, have lunch with their partner, pick up the kids from school, and have a better work/life balance rather than spending all day glued to their office desk. However, only 8% of employees want to WFH all the time which is where hybrid working comes in.
Nationwide has just confirmed it will allow 13,000 UK employees to decide where they work under a new flexible working scheme, with 36% preferring a combination of working from home and office-based work. This flexibility shows a sense of trust, respect, and intelligence at recognising what's best for its workforce will lead to better outputs from employees.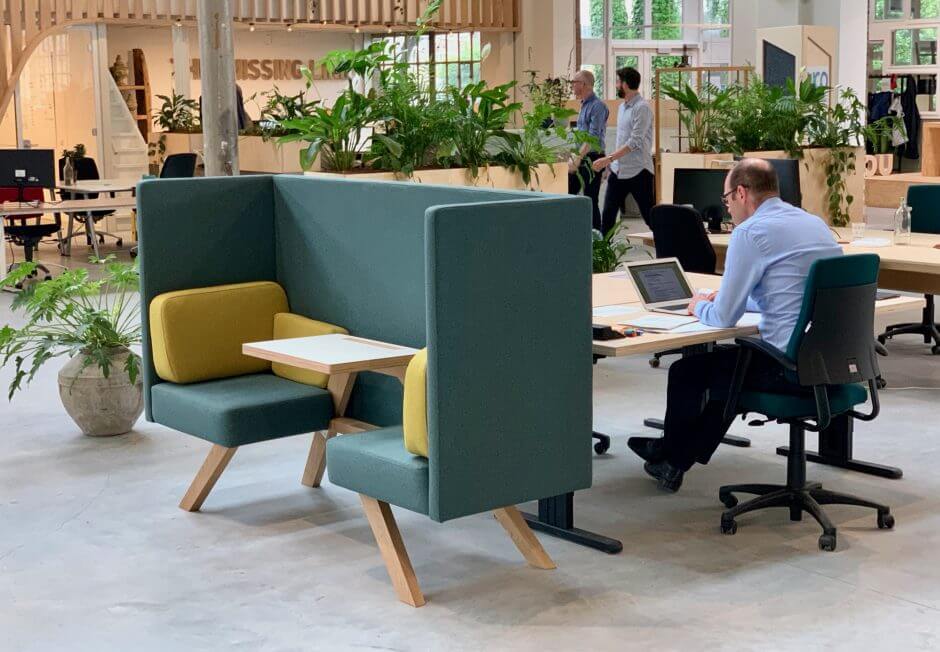 7. Modern workplaces will work harder to retain top talent.
A lot has happened over the past 12 months. How businesses reacted to global events will have influenced candidates' perception of whether they want to work for that company or not. It doesn't matter how beautiful your workspace is; if the company culture is toxic, people will leave.
This is where a modern workplace can shine. Asking employees for their feedback; listening and taking action; providing mental health support; ensuring workers have suitable ergonomic furniture and the best IT equipment available; as well as a modern, dynamic workspace, will demonstrate that people are important and cared for. 
8. Culture is everything.
There's a huge focus on what makes a great place to work with companies exploring what this will look like in the future. Forbes defines workplace culture as "share values, belief systems, attitudes and the set of assumptions that people in a workplace share." When workers feel valued, included, respected, and supported then they're likely to be happier and more productive.
A modern workplace provides an empowering sense of identity and belonging. Physically being within a space shared by your colleagues, working towards the same goal, can remind workers of their purpose and that they're part of something bigger.
9. Data leads to better decision-making.
Employee data is incredibly valuable. It can improve employee satisfaction, identify knowledge gaps, and enable them to recruit better in the future. Interestingly Deloitte surveyed 11,000 business leaders from around the world, 85% of which believed people analytics were important, but only 42% said they were ready to address it. With a distributed workforce, workplace analytics will ensure there's a constant open dialogue between employers and employees.
10. The modern workplace could be on your doorstep.
There's a prediction that we'll see a rise in coworking spaces, work hubs, and a variety of buildings housing workspaces such as hotels, restaurants and retail spaces. Prior to lockdown, research found that on average commuters to London can often spend 79 minutes each day commuting to and from work at a cost of £5,000 per year.
Whilst we may affectionately "miss" our commute (when really we miss the downtime, the decompression, and the solitude no longer found in our day-to-day lives) overall people are more interested in the 15-minute city concept. The 15 minute city aims to provide people with everything they need, from housing, park, restaurants, schools, and a modern workplace – all within 15 minutes from their home. In essence, this concept would fulfil six social functions including: living, working, supplying, caring, learning and enjoying.
***
Whilst the world of work shifts over the coming months, we'll be keeping a close eye on what's needed to enable employees to thrive in a modern workplace – whether that's working from home, in a coworking space, or in the office. If you're looking for ideas to boost wellbeing at work, click here for our latest insight.